Ambrose University College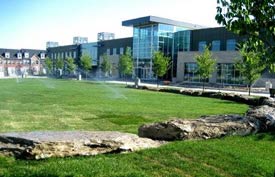 About Ambrose University College
Ambrose University College is a diverse community of learners, from many confessional backgrounds and are admitted from all walks of life. Ambrose does not discriminate on the basis of gender, race, colour, national or ethnic origin, physical or learning disability or religion in the administration of any of its programs or activities.
The Ambrose campus, located on 40 acres at the western edge of the city, boasts a beautiful mountain view. It is connected to public transit through a bus exchange at 17th Avenue and 69th St SW.
The campus is newly constructed and therefore is equipped throughout with the latest learning techology and services. The Ambrose library is the largest private library in the prairie provinces. An on campus residence and food service is available for students. The gymnasium is a university competitiion facility.
Calgary, a city of over one million people, is located in the rolling foothills of the Canadian Rockies, just a few hours from the U.S. border. The Calgary International Airport, just 40 minutes from our campus, is Canada's third busiest airport.
Calgary is known for its blue skies, and Alberta has more hours of sunshine in a year than any other province in Canada. A unique phenomenon called a Chinook wind can raise temperatures more than 20 degrees in one day, turning winter days into spring.
Calgary offers world-class facilities for winter sports, having hosted the Winter Olympics in 1988, and the nearby Rocky Mountains provide exhilarating skiing and other recreational opportunities. The "Stampede City" is also known for its western culture, beautiful pathways along the Bow River, symphony orchestra, and professional football and hockey teams.