Northern Alberta Institute of Technology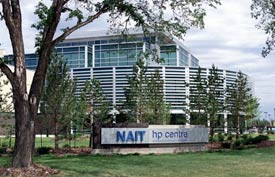 About NAIT
The Northern Alberta Institute of Technology is a leader in technical training and applied education designed to meet the demands of Alberta's industries. NAIT graduates provide the skilled workforce required to support today's global, knowledge-based economy.
NAIT confers certificates, diplomas, and applied degrees. The Institute offers some 250 programs, including 34 apprenticeship offerings, and over 1,200 continuing education courses.
NAIT's style is hands-on, making our graduates job-ready. Theory and practical training are educational partners here. Students gain experience with the situations and equipment they would find in the workplace, and many programs involve a practicum, or job placement. Most NAIT instructors bring direct industry experience to the classroom.