The University of Alberta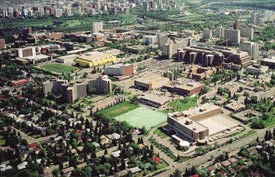 About The University of Alberta
The University of Alberta is a public coeducational research university located in Edmonton, Alberta, Canada. The university's major faculties include arts, science, engineering, medicine and dentistry, law, education, nursing, agriculture, pharmacy and pharmaceutical science, business, physical education and several special programs, such as those hosted by Campus Saint-Jean, the Augustana Campus and the Faculty of Native Studies.
The university has several distributed campus facilities including; Campus Saint-Jean in south east Edmonton, and Augustana Campus in Camrose plus an extensively renovated and refurbished Hudson's Bay department store in downtown Edmonton, to be called Enterprise Square.
Notably the university owns a set of large parcels of undeveloped land (currently used as an experimental farm) slightly south of the main campus, called South Campus, in which an entire new university complex will gradually be constructed of similar magnitude to the Main Campus.
In June 2006, a new 120 million dollar building for the National Institute for Nanotechnology was opened on campus. The new complex is one of the world's most technologically advanced research facilities, housing the quietest, and cleanest, laboratory space in Canada. NINT occupies five floors of the new building with the top two floors being reserved by the university for nanotechnology- related research.